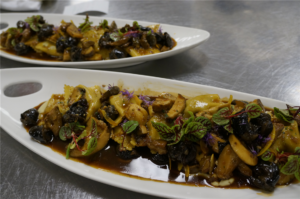 Ingredients
1 kg of snails

2 onions

A little garlic

1/2 ginger spoon

Vinegar

Black Pepper

Boukhovo / Hot pepper
Method
Put water in a saucepan and pour 2 tablespoons of thick salt.
When the water starts to boil, pour the snails and let them boil on a strong fire of about 20′, scraping them constantly. Then strain, pull the snails out of their shell, remove the intestine, rinse with plenty of water and a little vinegar, and let them drain well. Finally, we put the bodies of the snails back into the shells.
In a saucepan, let the oil burn and at the same time grind garlic with onion and ginger. Simmer for 10′ the snails on a mild fire, along with the ground onion, garlic and ginger.
Add black pepper, boukhovo or hot pepper and salt, and quench with vinegar. Once the vinegar evaporates, pour half a glass of water and wait for the sauce to fasten. Optionally, add 1 teaspoon tomato paste.
We are ready! Bon appétit!